Peaceful night: how to dress baby for sleep?
Good sleep for baby means good sleep for us parents (in practice)! As young parents, we are always asking ourselves a multitude of questions to make sure we are taking the best possible care of our little ones.
One of the questions that comes up most often is what temperature the room should be and what clothes baby should wear to ensure a good and gentle sleep. Is he too hot? Too cold? Is he comfortable?
No need to panic! Here are the answers to your questions so that you can take your little angel to dreamland in complete peace of mind!
What temperature for baby's room?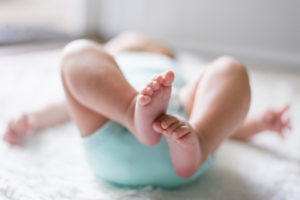 Ideally, the temperature in your little one's room should be between 18° and 20°. Even if it seems a little chilly, baby feels better bundled up in a cool room than uncovered in an overheated one.
A word of advice: remember to air his room every day to renew the air and create a healthier atmosphere.
How should I dress my baby to sleep in different temperatures?
For every climate, there are pyjamas! To dress your little treasure for sleep, you need nightwear adapted to the temperature and the season, so that he is neither too hot nor too cold while he sleeps.
In winter
When the temperature is below 16°C, it is important to wrap your baby up warmly so that he or she can sleep well. The best way to dress your little one in these winter temperatures is :
A long-sleeved bodysuit
A warm romper
A fleece sleeping bag
If it's really cold, you can add socks, a hat and little gloves for sleeping!
Between 16 and 17°, you can dress your baby with :
A long-sleeved bodysuit
A warm romper
A fleece sleeping bag
Small socks if needed
Mild temperatures
When the weather starts to get a little milder, forget the hat and gloves!
Between 18° and 19°, the ideal outfit for sleeping is :
One long-sleeved bodysuit
A warm sleeping bag
A thick sleeping bag
Between 20° and 21°, the sleeves should be blown off!
A short-sleeved bodysuit
A sleeping bag
A thick sleeping bag
Between 22° and 23°, forget the romper to avoid being too hot:
A long-sleeved bodysuit
A light sleeping bag or light pyjamas
When the heat arrives
When the temperature starts to rise, it is important to make sure that your baby does not suffer from the heat when sleeping and that he is not too covered to avoid any risks.
Between 24° and 25°, you should dress your baby with
A short-sleeved bodysuit
A light sleeping bag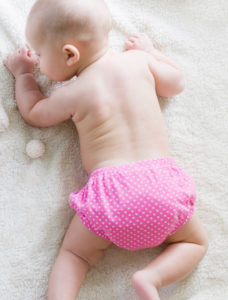 Between 26° and 27°, a short-sleeved bodysuit is sufficient.
At temperatures of +27°, take everything off and go to sleep in a nappy!
Monitoring baby's sleep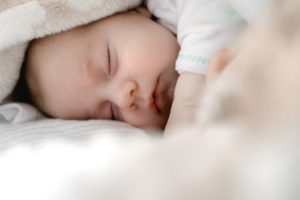 Now that your baby is well dressed and ready for a good night's sleep, here are a few tips on how to make sure he or she sleeps peacefully. To avoid the hassle of wondering if you've put on the right pyjamas for the right temperature, just check! An hour or so after putting your little one to bed, you can sneak into the room to see if he is too hot or too cold. You can touch your baby's tummy to check the body temperature, it should be warm. If you have any doubts, check his little feet, which should be slightly cooler than his tummy.
Of course, my advice on how to dress your baby to sleep at night is valid most of the time, but the outfit must be adapted to each individual! If he is ill, has a fever or is more or less sensitive to the cold, you should choose pyjamas accordingly.
Off to bed!