DIY – How to build the Montessori octahedron mobile?
After his first few months, baby begins to perceive and analyse the world around him. Shapes, colours, textures, tastes, everything is analysed! Located in their field of vision, the mobile hanging above the bed is the first object that our little ones discover independently. To stimulate their perception and awaken them, the octahedron mobile proposed by Montessori is ideal! It uses the 3 primary colours to develop baby's vision with warm tones, and its shape stimulates conception in space and relief while encouraging attention.
This mobile is rather simple to make, and allows you to personalise it as you wish to please your little treasure!
To build your Montessori mobile, you need :
Three sheets of A4 paper: yellow, blue and red (or others as you wish), preferably with some cardboard.
A pair of scissors
Glue
A wooden stick of about 25 cm
1.5 metres of nylon, white silk or sewing thread, depending on what you have
Octahedron mobile – building steps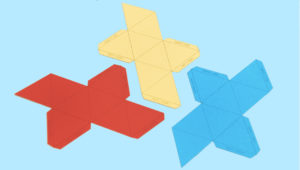 STEP 1:
To begin, print the patterns for the mobile on the coloured sheets. The patterns are available in PDF format at the end of the article.
Once the patterns are printed, cut out the shapes following the outer lines, then mark the folds of the papers where indicated. For your mobile to look good, I advise you to fold them inwards (with the lines hidden in the shape).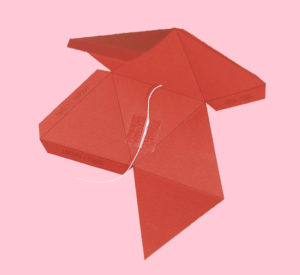 STEP 2:
Attach the chosen thread to the inside of the octahedron with a piece of tape, and pull it outwards through a corner before closing the patterns.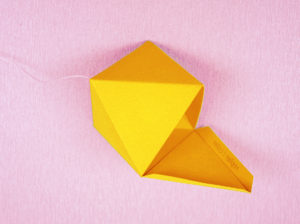 STEP 3:
To finish our beautiful coloured volumes, all that remains is to glue the indicated parts, taking care to keep the thread out!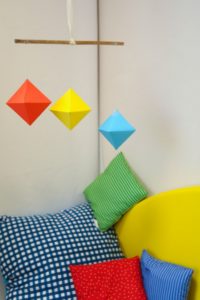 Once our three octahedrons have been formed, simply hang them from the rod by tying a small knot. You are free to arrange them in the order and with the length of thread that you wish. Note that yellow is the colour that baby sees the most, and blue is the one he sees the least: it is advisable to put the yellow furthest away and the blue closest to get your treasure used to the different colours!
And there you have it! Your Montessori mobile is ready! All you have to do is hang it above your little angel's cot or bed for colourful wake-up calls.
Click here to find the patterns in PDF