How to set up a Montessori room?
Your baby spends a large part of the day in his or her room: he or she takes little trips to dreamland, plays, and discovers his or her environment and motor skills.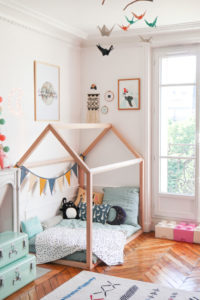 In order to promote your little one's development, it is important that he has a room that is conducive to his development. According to the Montessori philosophy, your baby's room should be a place where he or she can act freely, while feeling safe and secure. Use light tones on the walls to make the environment soothing, with a few splashes of colour in the furniture or decoration to stimulate your toddler's senses.
To respect baby's needs, the Montessori room should be calm and soothing, without too much clutter to encourage his autonomy and his thirst for discovery. It is composed of three corners: sleep, play and dressing.
The sleeping area :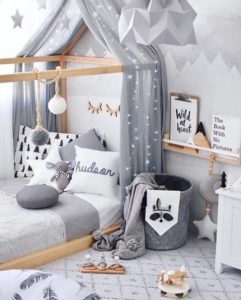 The sleeping area is where the child spends the most time in the first months. The Montessori method recommends not to put a bed with bars, but rather to put a mattress on the floor, which can be surrounded by large cushions to prevent baby from hitting the walls. Why avoid cots with bars? The aim of this room is to let your little angel develop and become independent, with his freedom. A mattress on the floor allows him to see his room, to observe it, to see where he comes and goes, and to get out when he starts to develop his motor skills, without having to shout for Mummy or Daddy to come and get him out of his wooden prison. More independence, more comfort, and less morning screaming, all positive things!
The play area:
This little corner is where Baby will develop his motor skills and stimulate his different abilities. It needs to be cosy, with a rather thick and soft carpet so that he is comfortable when he plays for a while. Your child will be able to play in its own cosy, zen and stimulating corner.
Be careful not to place too many toys, so as not to distract and disturb your baby in a crowded space.
Some accessories to stimulate Little Angel: a mobile for observation and concentration, a mirror to familiarise him with his reflection, a low, open piece of furniture with toys so that he can access them on his own, soothing, colourful decorations on the walls.
If you're looking for inspiration for activities and games for your little one, I've found some montessori play ideas on this blog. It has a selection for all ages (6 months, 1 year, 2 years and 3 years) and to awaken all the senses. You can make your own montessori materials or buy them. By offering your child a variety of materials, he will be able to progress at his own pace, with confidence and autonomy. He will learn to use these games alone or with an adult.
The games for the little ones focus on the senses (touch, smell, taste) while those for older children focus more on emotions, letters and numbers.
The dressing area: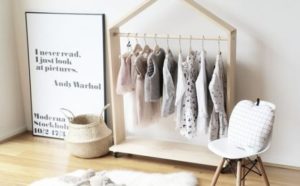 The Montessori philosophy advises making your little one's dressing room accessible from 18 months onwards, so that he can start to touch his clothes and get dressed on his own. In order not to confuse him with too many choices, you can keep his clothes in a high wardrobe, and provide him with appropriate clothes for the coming days in a low cabinet. The aim is to let him discover his environment as far as the clothes, and to accompany him in his dressing.
With an uncluttered and zen bedroom, Baby will be able to explore all its nooks and crannies to develop in complete freedom!