The essentials for a cocooning bedroom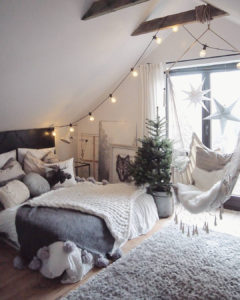 Our bedroom is the place where we spend a good part of our time, it is important to feel good there! Our little cocoon should be cosy and warm to promote our well-being, especially when it comes to sleep!
To make your nest a comfortable and soft place, I have prepared a selection of 5 essential objects for a cocooning bedroom, to stay under the duvet!

Cushions, again and again
On the bed, on the floor, on the footstools, cushions are essential for a cosy and comfortable place! In fabric, knitted or full of fur, they give a comfortable look to the room and allow you to sink into happiness!

Lighting garlands
We turn off the lights and turn on the garlands for a cosy and relaxing atmosphere! A subdued environment that relaxes our little eyes and creates a warm atmosphere. In addition, in white or coloured balls, these garlands to be hung on the wall or at the head of the bed are perfect for a trendy and cocooning room.

A good big plaid
To keep our cushions company, there's nothing better than a big, soft, fluffy plaid to wrap up in on winter evenings and bask in the warmth! Comfort and warmth, we love it!

Candles
To bring a little warmth into our bedroom, just light a few candles! The dancing flames add life to our cocooning atmosphere, and bring a little romance if Chéri is in bed! For more exoticism, choose scented candles with sweet and woody smells.

A light box
To feel perfectly well in our cocoon, we add a light box on which we write words that make us feel good! Soft and positive thoughts for happiness, and more happiness.
You can also think of other elements for a 100% cocooning room: a fluffy carpet, poufs or armchairs that you can't get up from, a rocking chair… The most important thing is to make a room you like!